GLOBAL ART SOURCE
ONE MAN SHOW. ZURICH. 8 SEPTIEMBRE - 28 OCTUBRE 2005 -
Goldbachcenter, Seestrasse 39, 8700 Küsnacht/Zürich.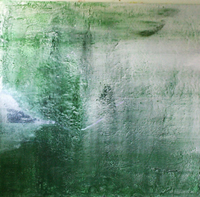 "Floating pigments"
ALBERTO REGUERA. "Firmament".
This is the second time that the painter Alberto Reguera shows individually in Zurich with the Global Art Source (the first time was in 2002). In this occasion, the exhibition organized by Global Art Source, is celebrated in the Goldbachcenter.
"Firmament" is the title of this one man exhibition that begin September, 8 and that will remain until October 31, 2005. In this, we can see 16 paintings of diverse formats, almost all of them made between 2003 and 2004.
The exhibition shows great variety of works, like those where the force and the monochromatic colors are the more important, as it is appraised in "Abstraction en orange" or "Texture in rouge", until pictures that lose their matter thickness but they win in subtility, as it is the case of "Winter sky fragments", where the clouds and the atmospheres imagined by the painter, show fragments to us of aerial natures. Romantics visions ready made with blue of prusia on titanium whites.
"Floating pigments" 2003 (200x200cm), is without a doubt, one of the stars pictures of this exhibition, and it remembers to us the admiration that feels Alberto Reguera by Monet. Reviewed and reconstituted abstract Impresionism with present techniques. All the pictures are acrylic on canvas, and in this exhibition already a piece can be seen that it directs to us towards the trajectory in the evolution of the painting of the artist; one is "Transparencias nocturnas" 2004, in which the thickness of its lateral side is 12 cm. wide.