ONE MAN SHOW. WASHINGTON. June 2003.
2010 R. Street, NW, Washington, DC 20009 USA. +1202/234-0339
Marc Moyens and Alberto Reguera: Reflections.
by Rex Weil.
This exhibition in dedicated to the memory of Marc Moyens. Marc died on April 8, 2003 in Washington of cardiac arrest. He was 83 years old. In 1969, he started Gallery Marc, on P St., NW. Marc and Komei Wachi then established Gallery K together in 1975. Nearly 35 years after Marc's first gallery opened its doors, Gallery K is one of the most highly esteemed venues in Washington, it is also the longest continuously operating contemporary art gallery in the city -a testament to Marc's vision and commitment.
Marc was born in Arles, France. He spoke French, English, Spanish and Italian. He was a language interpreter and consultant for the World Bank for many years. As insatiable reader and brillant conversationalist, Marc's other far-ranging interests included music, politics and economics. He was a fine classical pianist and he taught economics at Johns Hpkins. A selections of his prescient and internationally respected art collection has been exhibited at the Corcoran Gallery of Art.
With his deep knowledge of art history and the contemporary art world, Marc was a powerful and encouraging influence on Washington artits, in an interview, Washington Color School painter gene Davis described Marc's late 1950's visit, when Davis was exhibiting mainly second generation "action" paintings:
A young collector by the name Marc Moyens dropped into my studio one day. He locked at (my) Abstract Expressionist work, yawned a bit, and looked over in the corner and said, "Who did that?" It was a stripe painting, I said, "I did." He got so enthusiastic... His was the first real enthusiasm I had experienced for my stripe paintings.
Marc's commanding presence will be missed, but his thoughtful, straight-forward, nonsense approach to the making and exhibiting of art will continue to guide all of us in our work.
Marc was an early champion of Alberto Reguera's painting in the United States. With Komei, he took a leading rote in organizing this exhibition and selecting the work. Though he did not live to see the show realized, it seems certain that Marc had a clear mind's-eye view of Gallery K in June with this impressive display of Reguera's luminous canvases.
This Reguera's third exhibition at Gallery K in five years. His work has continued to develop dramatically during that period in ambition and effect. The new works build on the artist's earlie successes with luminosity and surface, but signal a shift in pictorial depth and image. In Reguera's 2001 exhibition, the light seemed to dance on the vory surface of the painting. The new works suggest the diffusion of natural light in and through deep space. One thinks of Turner, or even Monet.
"Solveig's Songs of Grieg" ( a musical title Marc Moyens would have appreciated), is a large 2002 nocturne. Bright light emerges from the top right corner; a sunset seems to be reflected on deep, dark water. Though natural landscape space is indicated here, Reguera reorganixes an compresses feelings of near and far, up and down, wide and narrow, until they are nearly indistinguishable. The result is vertiginous: the viewer balances in front of the canvas, a lttle afraid of falling into this mysterious space.
"Cosmic Lights" (2003) continues Reguera's practice of packing maximun punch into smaller scale paintings. As in Solveig's Song, a blinding white light grab the viewer's attention first. From the left, a brillant red formation seems to be in motion, ready to pass through the center of composotion. Blues ranging from pastel tints to deep earthy tones recall photographs of a cloud curtained earth from space.


* * *

Marc Moyens would have been very pleased with this exhibition and I know Komei Wachi takes great pride, along with Alberto Reguera in dedicating it to Marc's memory. Marc did not want any pomp and ceremony attending his death; he specifically ruled it out in his will. II think Marc would consider the continued success and growth of all the artist's associated with Gallery K to be the most important and lasting memorial.

Rex Weil.

Rex Weil is an artist and writer living and working in Washington, DC. At the Corcoran College of Art and Desing, he teaches Contemporary Art and Theories of Art. He is a contributing editor for ARTnews and has writen essays and criticism about conyemporary art for ARTnews, New Art Examiner, The Wall Street Journal and Washington City Paper, among other publications. His painting and sculpture are exhibited widley. He is the founder of the Corcoran Summer Art and Writing Institute and a founding member of the White House award winning Corcoran Mentorship Program. Mr. Weil has a BA from Northwestern University, a JD from the University of Cincinnati and has completed additional studes at Georgetown University, the Corcoran School of Art and the Escuela Libre de Derecho, Mexico, D.F.

In Memory of Marc Moyens
By Alberto Reguera.
I would like to dedicate this solo exhibition to Marc Moyens, who died recently and who was, together with Komei Wachi, the heart and soul of Gallery K in Washington, D.C.
I will always be grateful to Marc for his solid and determined support of my artistic career.
(It was in his gallery that I had my first solo show in the United States, in 1998.)
I'll never forget his visits to my studio in Paris, his enormous generosity in giving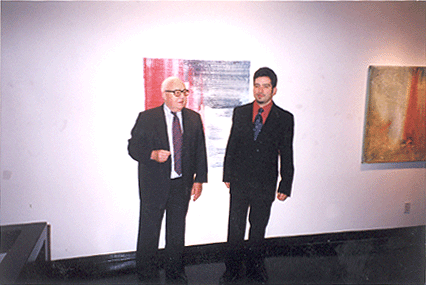 Marc Moyens and Alberto Reguera. (Personal Album)
me advice that was full of wisdom, his great capacity for insightful analysis in our discussions on the world of contemporary art, which we held both during my visits to Washington and by telephone. I will never be able to forget the particular tone of his voice that projected such lucidity and common sense! I learned so much talking with Marc. He was a person whose observant eye took in everything. He knew how to look at a painting and truly feel it.
That is why I want to dedicate this show to Marc. I'm sure that, with his boundless energy, he can see it even now. To Marc I dedicate these atmospheres, these textures bathed in copper. I dedicate these nocturnal landscapes inspired by Grieg to him-who loved classical music so much-and I also dedicate to him these "cosmic lights": may they reach out to infinity and keep alive forever the memory of a great human being named Marc Moyens. May his spirit remain alive in the artists whose works he valued so highly!
Alberto Reguera, Paris
April 2003