SARA ROONEY GALLERY.
10- 2006104 Glenmore Rd. - Paddington 2021 NSW. Sydney. SYDNEY. AUS.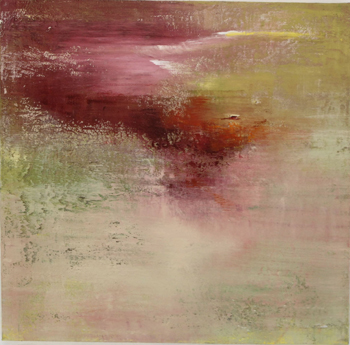 ILLUSIONISM PERSPECTIVE . 2006 (100 x 100 cm). Acrylic on canvas
The contemporary abstract landscape artist, Alberto Reguera, exhibits a characteristically emotive selection of paintings in his new exhibition Luminous Landscapes, which will run from 1st August to 12th August at Scream, 34 Bruton Street, W1.
Initially a student of art history, it is not surprising that Alberto's paintings are so evocative of the romantic traditions of landscape artists. However Alberto chooses to go beyond the distinctive forms of the immediate landscape and instead his works seem to free themselves somewhere off in the heady distance of the vista. Forms and colours dissolve and reform as Alberto captures the realm where earth, sky and matter all melt into the ether.
From icy winds to red hot lava flows, Alberto's palette travels across canvases that range from large scale works to smaller, box-framed pieces, where the painted depths of the work actually spill around the sides of the canvas in total celebration of the physical act of painting. As his coarse layers of paint and sprinkled pigment sit comfortably alongside fragile brushwork, so Alberto succeeds in harmonising the wildest and the softest aspects of nature.

Alberto was born in Segovia, Spain, in 1961. In 1984 he attended a contemporary art seminary at the Louvre Art School "L'Art du XXeme Siecle". After moving to Madrid in 1985, Alberto was selected several times to participate in the Contemporary Art Workshops at the Circulo Bellas Artes, where he received guidance from some of the maestros of contemporary Spanish painting including amongst others, Lucio Munoz.
Though Alberto still continues with his workshop in Madrid, he has lived and worked in Paris since 1991. In 1994 his works were exhibited in the Stedelijk Museum, Amsterdam, where the Dutch musician Bart Spaan interpreted some of his contemporary compositions inspired by paintings of Alberto Reguera. In 1995 he received the Paris Fine Arts Academy Award for Painting. In 1999 he designed the poster of the Paris Theatre Festival. In 2001 he won the Ojo Critico Spanish Award, (Gold Award), Madrid. In 2003 he was the only Spanish artist invited to join the "European Art Dupont Circle" in Washington D.C.
Alberto Reguera's paintings are held in a number of international collections including The Louvre, Paris; Art Collection of the Government of Castilla Leon and the Marc Moyens Collection, Washington.

For Press information on the gallery please contact: press@screamlondon.co.uk
Scream, 34 Bruton St, London W1J 6QX info@screamlondon.com